CROSS-SECTION OF THE MARMAROSHSKI CLIFFS ZONE.
GEOLOGICAL LANDMARKS OF UKRAINE. TRANS-CARPATHIAN REGION.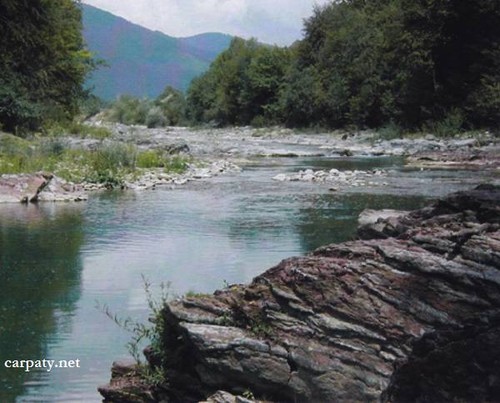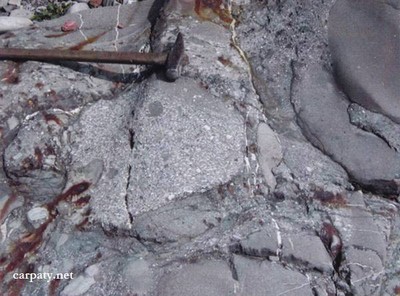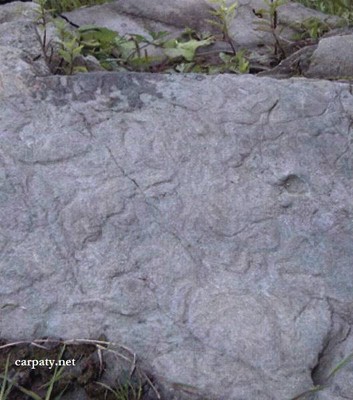 Trans-Carpathian deep-seated fault zone, Marmaroshska sub-zone
Khust area. Zabrid village. Valley and left bank of Tereblya River
48° 16 23″ N lat; 23″ 34′ 41″ E long.
Quarry
Stratigraphic, tectonic.
At the eastern outskirt of Zabrid village in the banks and course of Tereblya River there are exposed well enough the sediments of Lower-to-Upper Cretaceous Soymulska Suite including its olistostrome (lower) and sandstone-argillite (upper) parts, red marls of Pukhivska Suite, fine-rhythmic parti-colored flysch of Yarmutska Suite (Upper Cretaceous-Paleocene), which are unconformable overlain with basal conglomerates at the bottom by sandstone pile of Metovska Suite (Paleocene-Eocene). There are observed tectonic relationships between Soymulska and Pukhivska Suites. Section length along the river is about 1000 m, width up to 50-80 m, and in the Upper Jurassic marbled limestones quarry — up to 200.
The section has scientific importance for the entire Eastern Carpathian region. The river valley in red marl banks is very impressive. Besides that on the left bank here and in 250 m down the course there occur mineral springs which also attract a lot of tourists.
Ecological conditions are suitable.
Accessible by motor-car.
Legally the object as geological landmark is not defined yet.
It is suggested to give the status of geological state-rank landmark.
Sourсe: Geological Landmarks of Ukraine: In 3 volumes/V.P. Bezvynniy, S.V. Biletski, O.B. Bobrovetal.; V.l. Kalinin, D.S. Gurskiy, I.V. Antakova, Eds. — K.: DIA, 2006. — Volume I. — 320 p.