THOUSAND-YEAR OLD OAKS IN STYZHYTSYA.
The oldest oaks in Ukraine can be found in the village of Stuzhytsya within the area of Uzhanskyi NNP.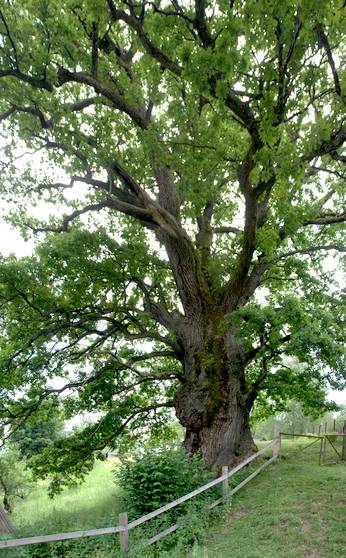 "Champion-oak" is recognized as the oldest oak in Ukraine. His age is estimated at 1300 years. It is indeed an impressive tree: girth – 9,6 meters, height – 25 meters. However "Granpa-oak" is better known and grows nearby: its girth is 9,1 meters, diameter – 3,0 meters, height – 30 meters, width of crown -20×25 meters. It is approximately 1100-1200 years old. There are a few local legends about "Grandpa-oak". One legend claims that the oak was born from an acorn brought here by a giant wild boar, while the other says that in the past bandits would gather around the tree and divide the stolen goods. According to the third legend, the oak was planted by a local man in memory of fellow villagers who died in plague. Local residents have always been looking after the trees and in 1893 they built a church by the oaks. Today the church is still standing there, alongside the oaks. The oaks are also being looked after – there are benches nearby, as well as protective signs and information stands.
Source: Uzhanskyi national nature park
89000, Ukraine, Transcarpathian region, Veliky Berezny vil, Nezalezhnosti street, 7
Phone/fax: (03135) 2-10-37
e-mail: uzhanskij@gmail.com, web: www.unpp.com.ua