CHERNIVTSI REGION. SECTION OF KROSNO SUITE (MIDDLE-KROSNENSKA SUB-SUITE) ROCKS.
GEOLOGICAL LANDMARKS OF UKRAINE.  CHERNIVTSI REGION.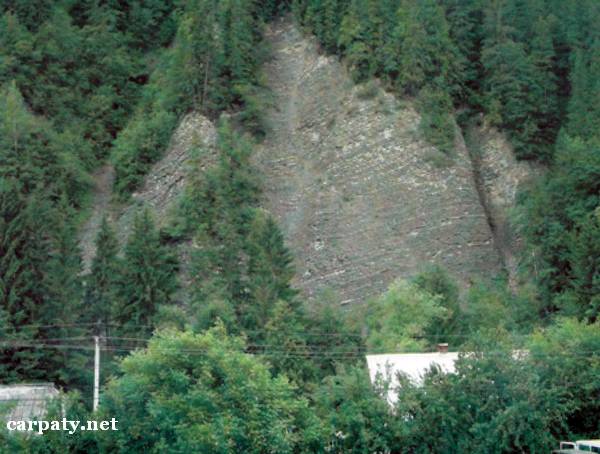 External Carpathians, Skyboviy Thrust
Putylya area, southern outskirt of Dykhtynets village. Left bank of Putyla River
48' 02′ N lat.; 25° 02′ E long.
Square 1 hectare
Stratigraphic
There is gullied left slope of Putyla River valley (about 50 m high and 180 m long). The outcrop is composed of grey carbonate fine-rhythmic two-component flysch (Middle-Krosnenska Sub-Suite, 25 Ma) in monocline south-western rock dipping.
This is typical section of Upper Oligocene — Lower Miocene rocks in south-eastern part of Carpathian Skyboviy Thrust. It is included into the program of CBGA geological excursions and has pictorial appearance.
Ecological conditions are suitable.
Close to object there is motor way Chernivtsi-Putyla.
Legally the object is defined as local-rank geological landmark.
It is suggested to give the status of regional-rank landmark.
Sourсe: Geological Landmarks of Ukraine: In 3 volumes/V.P. Bezvynniy, S.V. Biletski, O.B. Bobrovetal.; V.l. Kalinin, D.S. Gurskiy, I.V. Antakova, Eds. — K.: DIA, 2006. — Volume I. — 320 p.