IVANO-FRANKIVSK REGION. CONTACT OF PALEOZOIC METAMORPHIC SCHISTS AND TRIASSIC SPECKLED ROCKS.
GEOLOGICAL LANDMARKS OF UKRAINE. IVANO-FRANKIVSK REGION.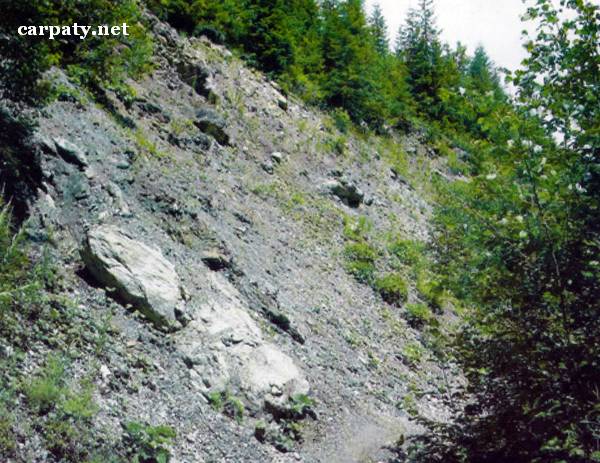 Carpathians, Marmaroshskiy Massif
Verkhovyna area. Preluchniy Stream
47° 46′ N lat.; 24° 56′ E long.
Square 0,5 hectare
Stratigraphic.
There is an outcrop in the left bank of Preluchniy Stream valley. On the eroded surface of sericite-chlorite metamorphic schists of Balasynivska Suite (Lower Paleozoic, 400 Ma) there lie continental terrigenous parti-colored Lower Triassic (220 Ma) rocks (conglomerates, sandstones, aleurolites) which up the section are replaced with Middle-Upper Triassic pink and gray marbled limestones.
The contact between Paleozoic and Triassic rocks is of considerable scientific value for the reconstructions of Marmaroshskiy Massif development.
Ecological conditions are suitable.
Access by Preluchniy Stream valley (1.3 km up the delta) from the road which goes from Perkalab village to the boundary check-point.
Legally the object as geological landmark is not defined yet. It is suggested to give the status of local-rank landmark.
Sourсe: Geological Landmarks of Ukraine: In 3 volumes/V.P. Bezvynniy, S.V. Biletski, O.B. Bobrovetal.; V.l. Kalinin, D.S. Gurskiy, I.V. Antakova, Eds. — K.: DIA, 2006. — Volume I. — 320 p.