CROSS-SECTION OF KAMYANOPOTOTSKIY NAPPE.
GEOLOGICAL LANDMARKS OF UKRAINE. TRANS-CARPATHIAN REGION.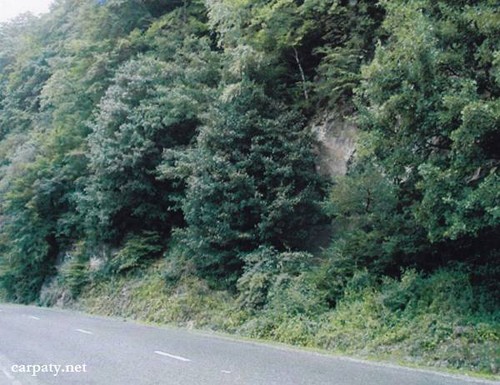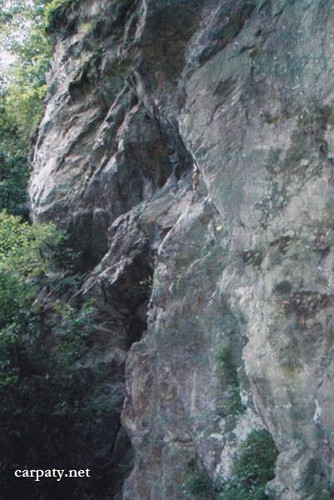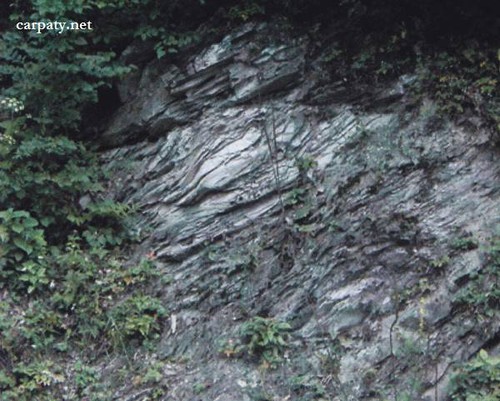 External Carpathians, Kamyanopototskiy nappe
Rakhiv city, Krasne Pleso Farm. Right bank of Tysa River
48° 02′ 05″ N lat; 24° 10′ 28″ E long.
Cliffs
Stratigraphic.
In the right bank of Tysa River in outcrops along the road in natural position one can observe almost continuous cross-section of the Kamyanopototskiy nappe rocks. The section length is about 500 m and cliffs height up to 15 m. There are exposed mafic lavas and tuffs of Chyvchyn Suite, dark aphanitic limestones and calcareous argillites of Kamyanopototska Suite (Upper Jurassic — Lower Cretaceous) and valanginian sandstones (Lower Cretaceous). Age of these rocks is characterized well enough by molluscs fauna and foraminifera micro-fauna.
This is one of the most completed sections of Kamyanopototskiy nappe in the Eastern Carpathians and in this respect has significant scientific importance.
Ecological conditions are suitable but making the trip attention should be paid to the traffic over highway.
Accessible by motor-car.
Legally the object as geological landmark is not defined yet.
It is suggested to give the status of geological regional-rank landmark.
Sourсe: Geological Landmarks of Ukraine: In 3 volumes/V.P. Bezvynniy, S.V. Biletski, O.B. Bobrovetal.; V.l. Kalinin, D.S. Gurskiy, I.V. Antakova, Eds. — K.: DIA, 2006. — Volume I. — 320 p.