DISPLACEMENT CIRCUS.
GEOLOGICAL LANDMARKS OF UKRAINE. TRANS-CARPATHIAN REGION.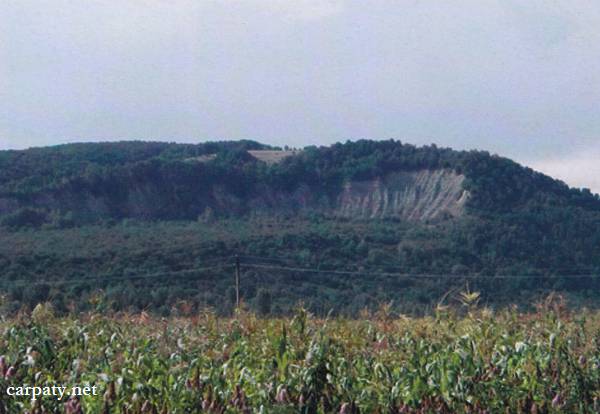 Trans-Carpathian internal trough, Solotvynska depression
Tyachiv area, Bilovartsi village. Right bank of Teresva River
48° 01′ 50″ N lat; 23° 41′ 20″ E long.
Rocky cliff
Geomorphologic, tectonic.
In the right bank of Teresva River over the Late Badenian sand-clay rocks had appeared a huge breakdown and displacement wall more than 1 km long and"30-35 m high. This is classic displacement fault which is well observed as destroying phenomena. Displacement development is related to the rocks over-wetting inside large fault and its age is estimated as 100 years at least. Displaced body about 20 hectares in square is overgrown with shrubs and trees, it is composed of giant blocks and clasts of sedimentary rocks with sandy and loamy filling. During its formation it has been broken and moved great amount of the host rocks while breakdown wall directly coincides to the plane of north-east striking Teresvenskiy fault. Thus, displacement had been provoked by modern tectonic movements along ancient fault that suggests for its activity up to recent times.
Described displacement circus provides good example for the studies of dangerous exogenic geological processes development.
Ecological conditions are suitable.
Accessible by motor-car — 700 m to the west form church in Bilovartsi village.
Legally the object as geological landmark is not defined yet.
It is suggested to give the status of geological state-rank landmark.
Sourсe: Geological Landmarks of Ukraine: In 3 volumes/V.P. Bezvynniy, S.V. Biletski, O.B. Bobrovetal.; V.l. Kalinin, D.S. Gurskiy, I.V. Antakova, Eds. — K.: DIA, 2006. — Volume I. — 320 p.