UPPER CRETACEOUS SEDIMENTS OUTCROP.
GEOLOGICAL LANDMARKS OF UKRAINE. TRANS-CARPATHIAN REGION.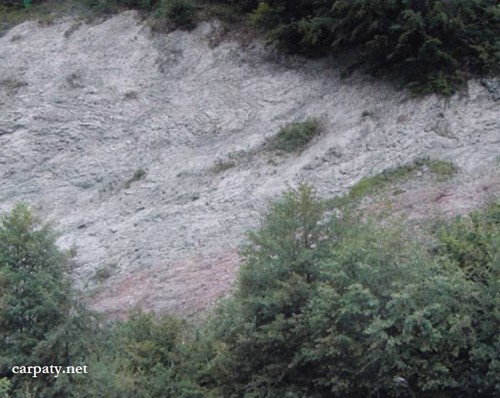 Trans-Carpathian deep-seated fault zone, Penninian sub-zone
Tyachiv area. Novoselytsya village. Right bank of Luzhanka River
48° 09′ 32" N lat; 23° 45′ 21″ E long.
Rocky cliff
Stratigraphic, tectonic.
In the right bank of Luzhanka River at the western outskirt of Novoselytsya village due to extensive side erosion in the right river bank there was formed rocky cliff up to 150 m long and 25 m high where Late Cretaceous Pukhivska Suite red and green-grey marls are exposed. It is seen in the cliff the fault along which green-colored part of the section overlaps red-colored one.
Non-flysch, essentially marl parti-colored pile of the Pukhivska Suite reflects relatively stable stage of the early Alpine Carpathian geo-syncline development when in almost whole region similar sedimentation conditions were achieved.
Ecological conditions are suitable.
Accessible by motor-car. Tysalovo farm, 550 m to north-west from the church in Novoselytsya village.
Legally the object as geological landmark is not defined yet.
It is suggested to give the status of geological regional-rank landmark.
Sourсe: Geological Landmarks of Ukraine: In 3 volumes/V.P. Bezvynniy, S.V. Biletski, O.B. Bobrovetal.; V.l. Kalinin, D.S. Gurskiy, I.V. Antakova, Eds. — K.: DIA, 2006. — Volume I. — 320 p.