SAULYAK QUARRY.
GEOLOGICAL LANDMARKS OF UKRAINE. TRANS-CARPATHIAN REGION.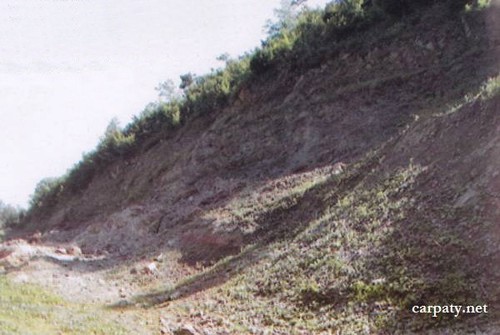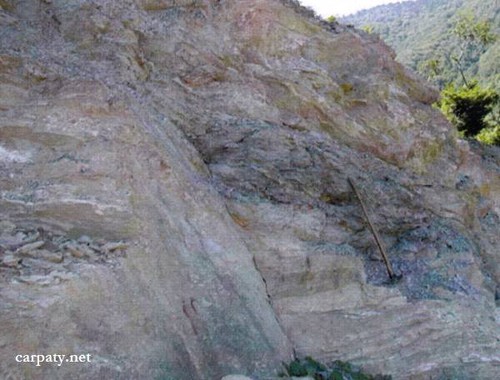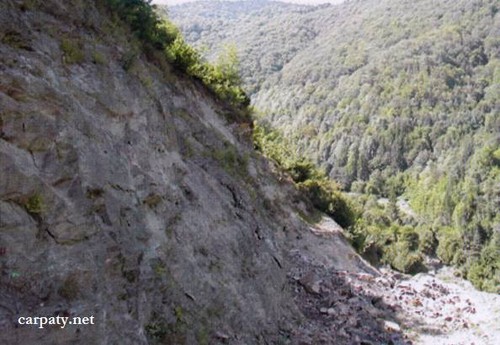 Internal Carpathians, Marmaroshskiy crystalline massif
Rakhiv city, Dilove village. Saulyak Stream
47° 56′ 29″ N lat: 24° 09′ 58″ E long.
Quarry and gallery
Mineralogical.
At the western outskirt of Dilove village in right bank of Saulyak Stream there are located quarry and gallery. In the quarry within extensively lensed quartz-feldspar-chlorite-sericite schists (common rocks in between Dilovetskiy and Bilopototskiy nappes of Marmaroshskiy massif) there occurs a lens of quartz-carbonate rocks with visible low-sulphide gold mineralization. Quarry dimensions are 250 by 30-40 m, wall height up to 25-30 m. In quartz-carbonate rocks occurs the range of flat-laying isocline folds which main lines coincide with the planes of superimposed secondary schistosity that caused fine-sheeted blastic milonites (phillonites) of the productive horizon in Saulyak deposit.
Ecological conditions are suitable.
Accessible by motor-car.
Legally the object as geological landmark is not defined yet.
It is suggested to give the status of geological state-rank landmark.
Sourсe: Geological Landmarks of Ukraine: In 3 volumes/V.P. Bezvynniy, S.V. Biletski, O.B. Bobrovetal.; V.l. Kalinin, D.S. Gurskiy, I.V. Antakova, Eds. — K.: DIA, 2006. — Volume I. — 320 p.