ROCKY CLIFF (PERMIAN-TRIASSIC ROCKS OUTCROP).
GEOLOGICAL LANDMARKS OF UKRAINE. TRANS-CARPATHIAN REGION.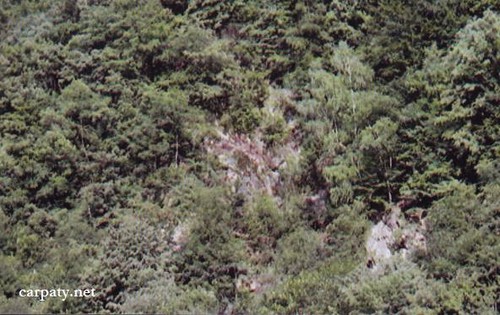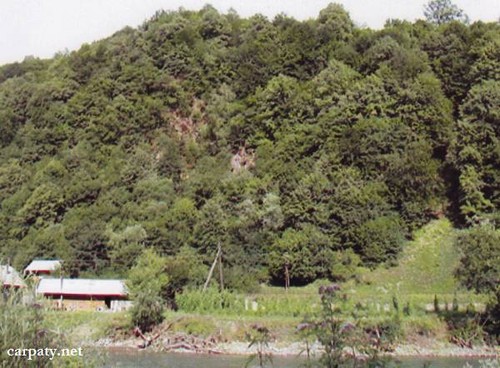 Internal Carpathians, Marmaroshskiy crystalline massif
Rakhiv city, Krasne Pleso Farm. Left bank of Tysa River
48° 01′ 51″ N lat; 24° 10′ 32″ E long.
Cliff. Square 3 hectares
Stratigraphic.
On the left bank of Tysa River inside impressive forest there occur outcrops of Upper Permian ‒ Lower Triassic parti-colored (reddish, greenish, violet) polymictic and quartz conglomerates, gravelites, sandstones and aleurolites. This is typical cross-section of the Herzinian intermountain molassa of Carpathian region. Age of the rocks is confirmed by molluscs and foraminifera fauna.
There are also tuff-sandstones and felsic clastic lavas which conformably overlay basal conglomerate pile. The outcrop has considerable scientific importance.
Ecological conditions are suitable.
Accessible by motor-car but river should be crossed. Nearest bridge is located in 1200 m downstream at Vilkhovatiy Farm, 4 km downstream from the centre of Rakhiv city.
Legally the object as geological landmark is not defined yet.
It is suggested to give the status of geological regional-rank landmark.
Sourсe: Geological Landmarks of Ukraine: In 3 volumes/V.P. Bezvynniy, S.V. Biletski, O.B. Bobrovetal.; V.l. Kalinin, D.S. Gurskiy, I.V. Antakova, Eds. — K.: DIA, 2006. — Volume I. — 320 p.