DACITE DYKE.
GEOLOGICAL LANDMARKS OF UKRAINE. TRANS-CARPATHIAN REGION.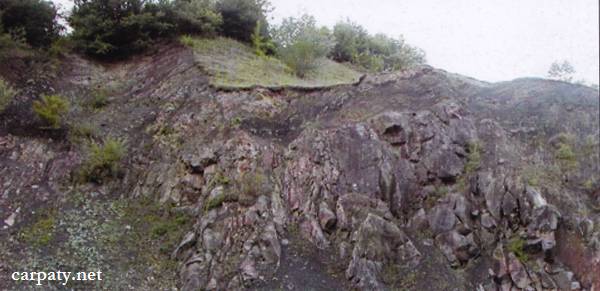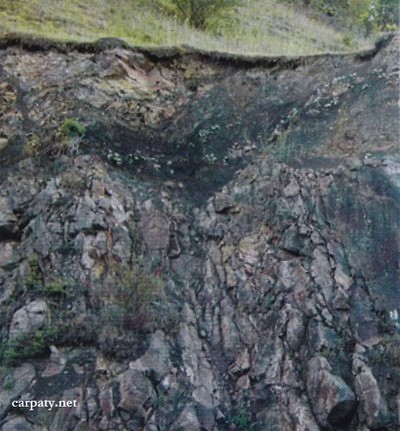 Trans-Carpathian deep-seated fault zone, Penninian sub-zone
Svalyava area, Suskovo village. Right bank of Latorytsya River
48° 33′ 27″ N lat; 22° 56′ 26″ E long.
Quarry
Magmatic.
In the wall of closed quarry located on the right bank of Latorytsya River, close to the road, with main bench length more than 200 m and up to 15 m height there is exposed flat-laying Neogene (absolute age about 13.3 Ma) dacite dyke which cuts Paleogene terrigenous sediments. Emplacement of the sub-intrusive rocks (red on weathered crust) into the dark-grey marine sediments occurred at the early sub-volcanic stage of Neogene tectonic-magmatic activization in the zone of Trans-Carpathian deep-seated fault. Intrusive ("hot") contact of the dyke with sediments is excellently exposed and accessible for observation.
Ecological conditions are suitable.
Accessible by motor-car. 3 km to north-east from the Suskovo village centre by the road Mukachevo – Svalyava.
Legally the object as geological landmark is not defined yet.
It is suggested to give the status of geological regional-rank landmark.
Sourсe: Geological Landmarks of Ukraine: In 3 volumes/V.P. Bezvynniy, S.V. Biletski, O.B. Bobrovetal.; V.l. Kalinin, D.S. Gurskiy, I.V. Antakova, Eds. — K.: DIA, 2006. — Volume I. — 320 p.