KOLCHYNSKE EXPOSURE OF EPICLASTIC ROCKS.
GEOLOGICAL LANDMARKS OF UKRAINE. TRANS-CARPATHIAN REGION.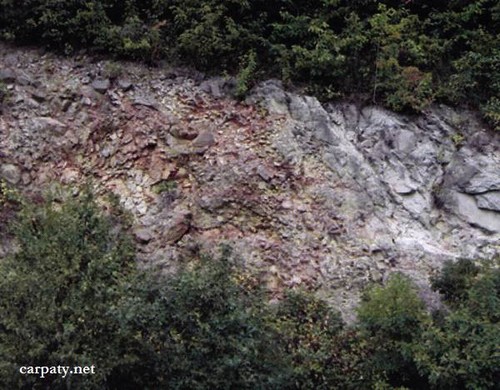 Trans-Carpathian internal trough, Vygorlat-Gutynske volcanic range
Mukachevo area, Kolchyno village
48° 23′ 14″ N lat; 22°45′ 02″ E long.
Cliffs
Magmatic.
In the technogenic rocky cliff along the road are exposed Neogene (Late Sarmatian-Pannonian, absolute age 10,3-10,7 Ma) andesite lavas which are in contact with epiclastic breccias of the lava flow fronts. Breccias were formed at the andesite lavas extrusion into the water basin during numerous volcanic explosions.
Kolchynske exposure of epiclastic rocks is one of the most prominent and accessible in Trans-Carpathians. One can observe there direct transition from massive lava along its flow to the epictastic rock. Ecological conditions are suitable.
Accessible by motor-car along the road westward of cross-road on Uzhgorod-Kyiv route.
Legally the object as geological landmark is not defined yet.
It is suggested to give the status of geological regional-rank landmark.
Sourсe: Geological Landmarks of Ukraine: In 3 volumes/V.P. Bezvynniy, S.V. Biletski, O.B. Bobrovetal.; V.l. Kalinin, D.S. Gurskiy, I.V. Antakova, Eds. — K.: DIA, 2006. — Volume I. — 320 p.