VOROCHOVSKI CLIFFS.
GEOLOGICAL LANDMARKS OF UKRAINE. TRANS-CARPATHIAN REGION.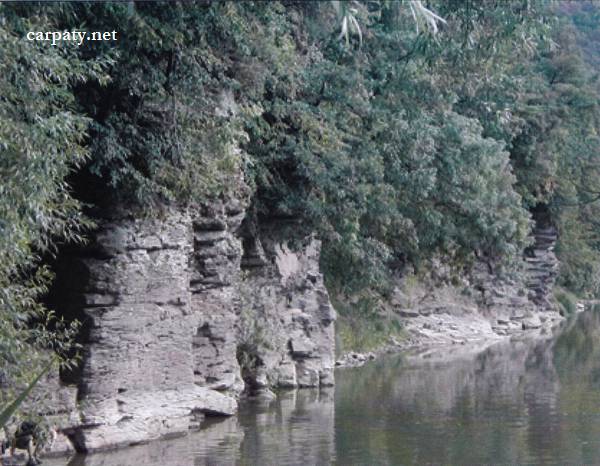 Trans-Carpathian internal trough, Vygorlat-Gutynske volcanic range
Uzhgorod area, north-eastern outskirt of Kamyanytsa village. Left bank of Uzh River
48°41′ 18″ N lat; 22°25′ 34″ E long.
Cliffs
Magmatic, geomorhological.
In the left bank of Uzh River covered by bushy forest due to extensive bank side erosion have been formed rocky cliffs more than 100 m long and up to 10 m height where andesite lavas are exposed. They had been erupted from the central and side craters of the largest Trans-Carpathian volcano — Antalovetska volcanic-tectonic structure (absolute age ~ 9.5 Ma) which central portion is discovered some kilometers eastward at site of modern Antalovetska Polyana Mountain.
Combination of the rocky cliffs and wide river sandbank give beautiful landscape which attracts numerous tourists and campers.
Ecological conditions are suitable.
Accessible by motor-car up to the hanging bridge then 100 m by walk.
Legally the object as geological landmark is not defined yet.
It is suggested to give the status of geological state-rank landmark.
Sourсe: Geological Landmarks of Ukraine: In 3 volumes/V.P. Bezvynniy, S.V. Biletski, O.B. Bobrovetal.; V.l. Kalinin, D.S. Gurskiy, I.V. Antakova, Eds. — K.: DIA, 2006. — Volume I. — 320 p.