CHERNIVTSI REGION. CHORNIY DYV CLIFFS.
GEOLOGICAL LANDMARKS OF UKRAINE.  CHERNIVTSI REGION.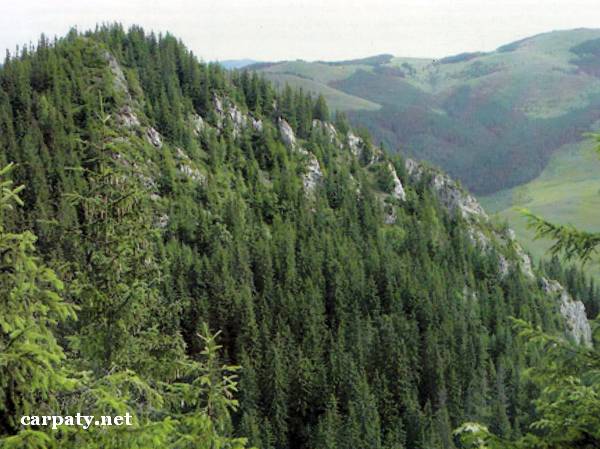 Carpathians, Marmaroshskiy
Massif Putylya area, country between Perkalab and Sarat rivers. Chorniy Dyv Ridge
47'47' N iat.; 24'58′ E long.
Cliffs. Square 5 hectares
Geomorphologic, stratigraphic.
On the watershed in the forest rises up pictorial cliffs with rocky walls 50-60 m high. They are composed of Upper Jurassic (150 Ma) greenish-grey chemogenic limestones which lie on the eroded surface of Paleozoic metamorphic rocks. Limestones are cut by numerous deep fractures in which sometimes occur edelweiss flowers that are very rare in Carpathians. This is stratotype of Jurassic rocks which overlie Marmaroshskiy Massif metamorphic schists; pictorial landscape decoration. Ecological conditions are suitable. From Perkalab village to the cliffs there go several tourist paths. Best access bypath from broken dam.
Legally the object is not defined yet.
It is suggested to give the status of state-rank landmark.
Sourсe: Geological Landmarks of Ukraine: In 3 volumes/V.P. Bezvynniy, S.V. Biletski, O.B. Bobrovetal.; V.l. Kalinin, D.S. Gurskiy, I.V. Antakova, Eds. — K.: DIA, 2006. — Volume I. — 320 p.