CHERNIVTSI REGION. SHYPOT WATERFALL.
GEOLOGICAL LANDMARKS OF UKRAINE.  CHERNIVTSI REGION.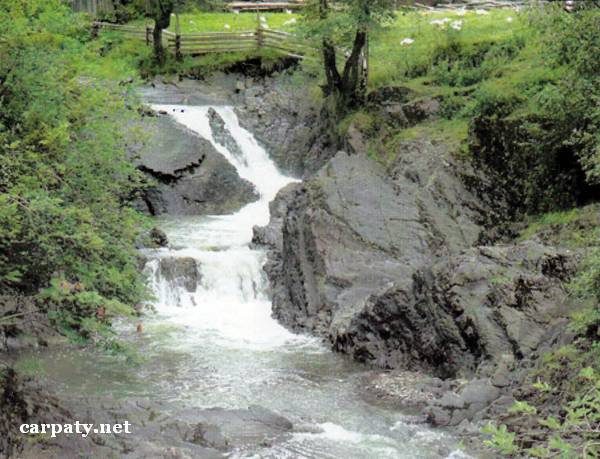 External Carpathians, Chornogorskiy Thrust
Putylya area, centre of Verkhniy Shepit village. Suchava River
47' 48′ N lat.; 25' 10′ E long.
Cascade of waterfalls. Square 0.3 hectare
Geomorphologic, stratigraphic.
There is cascade of waterfalls in course of Suchava River along the distance of 20 m, total height is 8 m. The waterfall is confined to the pile of Upper-Shypotska Sub-Suite (Lower Cretaceous, 115 Ma) coarse-layered silicified ("glassy") sandstones.
This is typical section of Lower Cretaceous rocks in Chornogorskiy Thrust of Carpathians; pictorial landscape decoration.
Ecological conditions are suitable.
Close to object there is dirt road then walk pass to waterfall. Best observation mode — from hanging bridge over the river.
Legally the object is not defined yet.
It is suggested to give the status of regional-rank landmark.
Sourсe: Geological Landmarks of Ukraine: In 3 volumes/V.P. Bezvynniy, S.V. Biletski, O.B. Bobrovetal.; V.l. Kalinin, D.S. Gurskiy, I.V. Antakova, Eds. — K.: DIA, 2006. — Volume I. — 320 p.