CHERNIVTSI REGION. PORKULETSKA SUITE STRATOTYPE ON YALOVICHORA RIVER.
GEOLOGICAL LANDMARKS OF UKRAINE.  CHERNIVTSI REGION.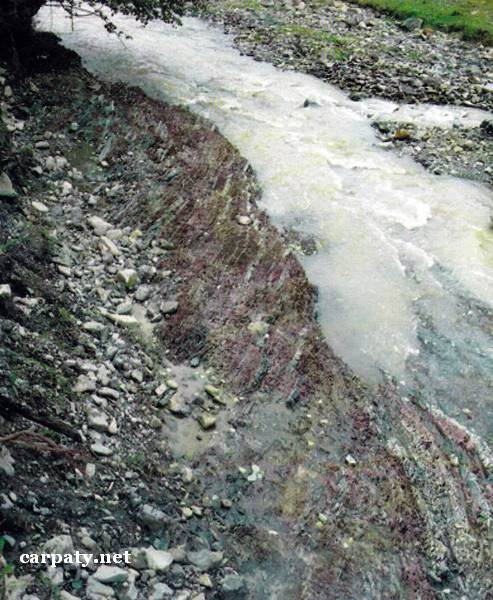 External Carpathians, Chornogorskiy Thrust
Putylya area, south-eastern outskirt of Nyzhniy Yalovets village. Left bank of Yalovichora River
47° 50′ Nlat.; 25° 01′ E long.
Square 0.2 hectare
Stratigraphic.
In the 1-st over-flood terrace of Yalovichora River are exposed fine-rhythmic parti-colored flysch rocks (Lower-to-Upper Cretaceous Porkuletska Suite, 100-110 Ma) deformed to the narrow folds. In the section also occur aleurolite lenses saturated by coalified fossil debris associated with copper mineralization as copper carbonate (malachite and azurite) films. Copper mineralization is of mineralogical importance only.
This is a stratotype of Lower-Upper Cretaceous flysch rocks characteristic for Carpathian Chornogorskiy Thrust.
Ecological conditions are suitable.
Close to the object there is dirt road Shepit-Nyzhniy Yalovets.
Along Biliy Cheremosh River valley there is very poor timber-lorry road from Grynyava village.
Legally the object is not defined yet.
It is suggested to give the status of regional-rank landmark.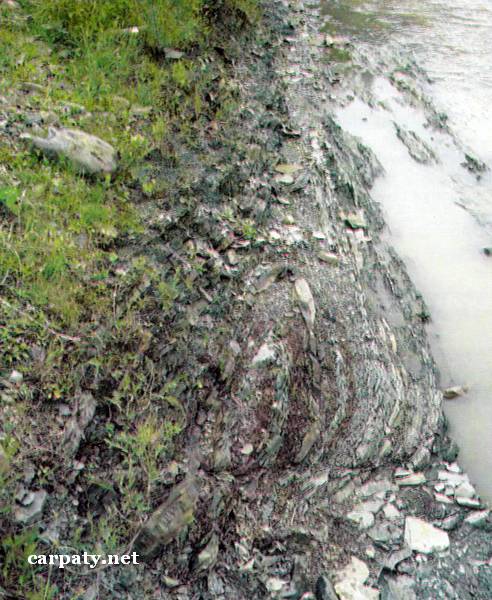 Sourсe: Geological Landmarks of Ukraine: In 3 volumes/V.P. Bezvynniy, S.V. Biletski, O.B. Bobrovetal.; V.l. Kalinin, D.S. Gurskiy, I.V. Antakova, Eds. — K.: DIA, 2006. — Volume I. — 320 p.