CHERNIVTSI REGION. GIRSKE OKO («MOUNTAIN EYE») LAKE.
GEOLOGICAL LANDMARKS OF UKRAINE.  CHERNIVTSI REGION.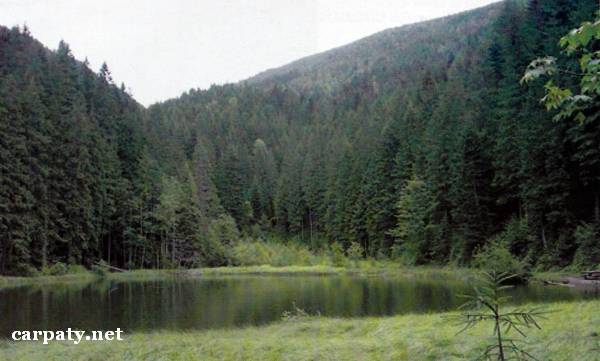 External Carpathians, Chornogorskiy Thrust.
Putylya area, north-eastern outskirt of Nyzhniy Yalovets village
47°51′ N lat.; 25° 01′ Elong.
Mountain lake. Square 1 hectare
Geomorphologic
The lake is rounded-shaped and about 100 m in diameter. It was formed due to Porkuletska Suite clay rocks slice which dam out the valley in Middle Pleistocene times (about 300 thousand years). Maximum depth of the lake is 6 m.
This is pictorial landscape decoration and object of tourist routes.
Ecological conditions are suitable.
There is very poor dirt road (1.8 km) from village to the lake.
Along Biliy Cheremosh River valley there is very poor timber-lorry road from Grynyava village.
Legally the object as geological landmark is not defined yet but is defined as hydrological one. It is suggested to give the status of local-rank landmark.
Sourсe: Geological Landmarks of Ukraine: In 3 volumes/V.P. Bezvynniy, S.V. Biletski, O.B. Bobrovetal.; V.l. Kalinin, D.S. Gurskiy, I.V. Antakova, Eds. — K.: DIA, 2006. — Volume I. — 320 p.