CHERNIVTSI REGION. FINE FOLDING IN LOWER CRETACEOUS ROCKS.
GEOLOGICAL LANDMARKS OF UKRAINE.  CHERNIVTSI REGION.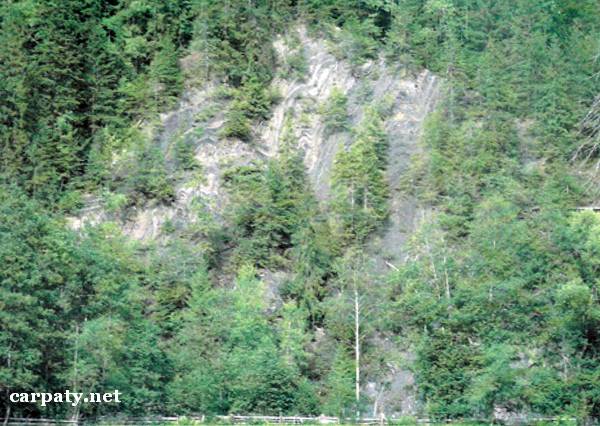 External Carpathians, Chornogorskiy Thrust
Putylya area, Goloshyna village. Blliy Cheremosh River
47° 56′ NI at.; 24° 56′ E long.
Square 0,5 hectare
Tectonic, stratigraphic.
There is gullied slope of Biliy Cheremosh River valley. Along the distance of 100 m in this slope (up to 30 m high) there is exposed a pile of fine-rhythmic intercalation of black silicified aleurolites and quartzite-like sandstones (Lower Cretaceous Shypotska Suite, 115 Ma) which is deformed into fine isocline and fan-like folds with limb range 2-3 m.
This is typical section of Lower Cretaceous rocks in Carpathian Chornogorskiy Thrust where fine folding in one of the thrust's nappe occurs.
Ecological conditions are suitable.
Along Biliy Cheremosh River valley there is very poor timber-lorry road from Grynyava village.
Legally the object is not defined yet.
It is suggested to give the status of local-rank landmark.
Sourсe: Geological Landmarks of Ukraine: In 3 volumes/V.P. Bezvynniy, S.V. Biletski, O.B. Bobrovetal.; V.l. Kalinin, D.S. Gurskiy, I.V. Antakova, Eds. — K.: DIA, 2006. — Volume I. — 320 p.