CHERNIVTSI REGION. SECTION OF KROSNO SUITE (LOWER-KROSNENSKA SUB-SUITE) ROCKS.
GEOLOGICAL LANDMARKS OF UKRAINE.  CHERNIVTSI REGION.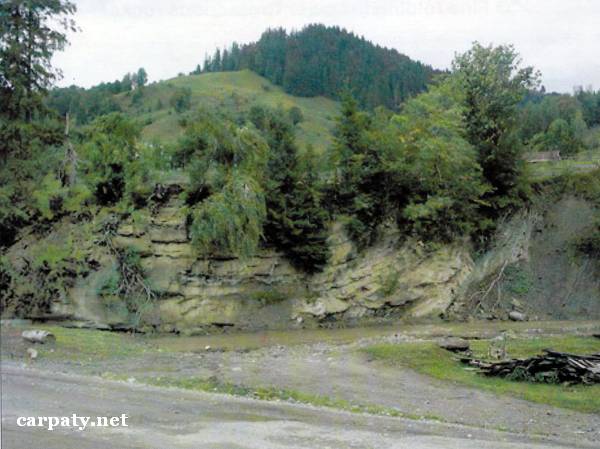 External Carpathians, Skyboviy Thrust
Putylya area, southern outskirt of Sergii village. Right bank of Putyla River
47° 58′ N lat.; 25° 08′ E long.
Square 0,5 hectare
Stratigraphic
There is gullied right slope of Putyla River valley (about 10 m high and 60 m long). In the ll-nd overflood terrace of Putyla River along distance of 60 m there is exposed sequence of coarse-layered variable-grained sandstones with piles and lenses of black bituminous argillites (Lower-Krosnenska SubSuite, 30 Ma).
The outcrop provides the typical section of Krosnenskiy-type Lower Oligocene rocks in south-eastern part of Carpathian Skyboviy Thrust. It is included into the program of CBGA geological excursions.
Ecological conditions are suitable.
Close to object there is dirt road Putyla-Selyatyn.
Legally the object is not defined yet.
It is suggested to give the status of regional-rank landmark.
Sourсe: Geological Landmarks of Ukraine: In 3 volumes/V.P. Bezvynniy, S.V. Biletski, O.B. Bobrovetal.; V.l. Kalinin, D.S. Gurskiy, I.V. Antakova, Eds. — K.: DIA, 2006. — Volume I. — 320 p.