CHERNIVTSI REGION. DYKHTYNETSKA ANTICLINE FOLD.
GEOLOGICAL LANDMARKS OF UKRAINE.  CHERNIVTSI REGION.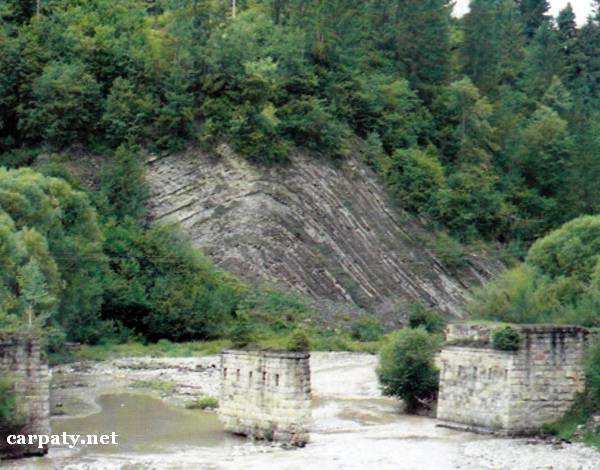 External Carpathians, Skyboviy Thrust
Putylya area, Dykhtynets village. Left bank of Putyla River
48° 03′ N lat.; 25° 02′ E long.
Square 0,5 hectare
Tectonic, stratigraphic.
There is gullied left slope of Putyla River valley (about 20 m high and 100 m long) where are exposed fine-rhythmic flysch rocks of Upper Oligocene — Lower Miocene (Upper-Krosno Sub-Suite, 20-25 Ma) characteristic for southernmost part of Carpathian Skyboviy Thrust. The rocks are deformed into symmetric anticline fold with limb range up to 100 m.
This is an example of classic anticline fold in Upper Oligocene rocks. It is the object for all geological excursions.
Ecological conditions are suitable.
Close to object there is motor way Vyzhnytsya-Putyla. Best observation from the bridge over Putyla River. Access to the outcrop by walk pass from the road.
Legally the object is defined as local-rank geological landmark.
It is suggested to give the status of regional-rank landmark.
Sourсe: Geological Landmarks of Ukraine: In 3 volumes/V.P. Bezvynniy, S.V. Biletski, O.B. Bobrovetal.; V.l. Kalinin, D.S. Gurskiy, I.V. Antakova, Eds. — K.: DIA, 2006. — Volume I. — 320 p.