CHERNIVTSI REGION. CLIFF OF THREE CHEKISTS.
GEOLOGICAL LANDMARKS OF UKRAINE.  CHERNIVTSI REGION.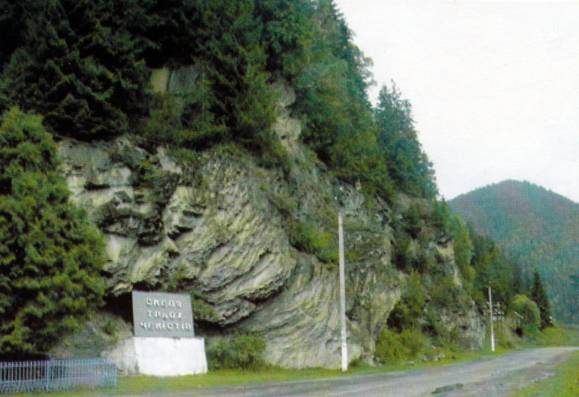 External Carpathians, Skyboviy Thrust
Putylya area, north outskirt of Dykhtynets village. Left bank of Putyla River
48° 04′ N lat.; 25° 02′ E long.
Cliff
Stratigraphic, geomorphologic.
There are rocky cliffs (about 20 m high and 50 m long) in the gullied left slope of Putyla River valley. The cliff is composed of Middle Eocene (45 Ma) silicified platy aleurolites which are characteristic to the sections in south-eastern portion of Carpathian Skyboviy Thrust. The cliff is named in memory of three officers (Chekists) of Soviet Union People Commission of Internal Affairs (Cheka, NKVD or, later, KGB) death in September 1944.
This is characteristic Middle Eocene section of the given region.
Ecological conditions are suitable.
Close to object there is motor way Vyzhnytsya-Putyla.
Legally the object is defined as local-rank geological landmark.
Sourсe: Geological Landmarks of Ukraine: In 3 volumes/V.P. Bezvynniy, S.V. Biletski, O.B. Bobrovetal.; V.l. Kalinin, D.S. Gurskiy, I.V. Antakova, Eds. — K.: DIA, 2006. — Volume I. — 320 p.