CHERNIVTSI REGION. ZAKAMYANILA BAGACHKA («STONED RICH-WOMAN») CLIFF.
GEOLOGICAL LANDMARKS OF UKRAINE.  CHERNIVTSI REGION.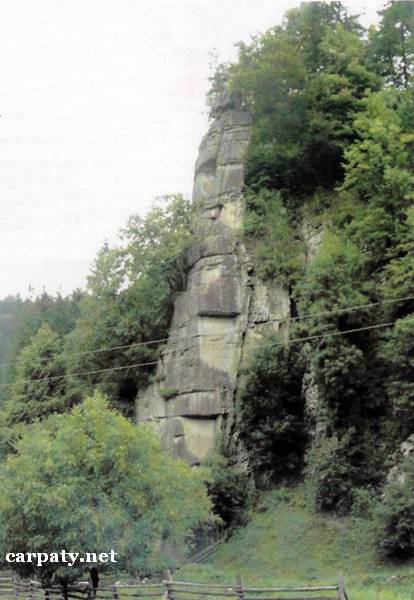 External Carpathians, Skyboviy Thrust
Putylya area, Ust-Putyla village. Right slope of Putyla River valley
48° 06′ N lat.; 25° 02′ E long.
Cliff. Square 0,1 hectare
Geomorphologic, stratigraphic.
The roadside cliff up to 25 m high looks like woman and composed of Middle Eocene (Vygodska Suite, 45 Ma) coarse-layered sandstones which are typical for the Skyboviy Nappe section. According to the legend once upon the time it was avaricious rich-woman who had been converted into the cliff since she had refused her charity to the beggar woman.
Ecological conditions are suitable.
Close to object there is motor way Vyzhnytsya-Putyla.
Legally the object is defined as local-rank geological landmark.
Sourсe: Geological Landmarks of Ukraine: In 3 volumes/V.P. Bezvynniy, S.V. Biletski, O.B. Bobrovetal.; V.l. Kalinin, D.S. Gurskiy, I.V. Antakova, Eds. — K.: DIA, 2006. — Volume I. — 320 p.