CHERNIVTSI REGION. ZHABA («FROG») CLIFF.
GEOLOGICAL LANDMARKS OF UKRAINE.  CHERNIVTSI REGION.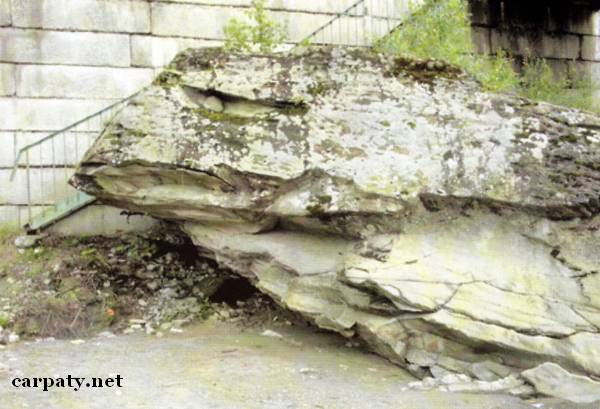 External Carpathians, Skyboviy Thrust
Vyzhnytsya area, south-eastern outskirt of Marynychy village. Right bank of Cheremosh River
48° 08′ N lat.; 25° 04′ E long.
Cliff. Square 0,01 hectare
Geomorphologic.
The cliff up to 4 m high in the right bank of Cheremosh River looks like giant frog. It is composed of Middle Eocene (Vygodska Suite, 45 Ma) coarse-layered sandstones with thin argillite beds.
The object is impressive landscape decoration.
Ecological conditions are suitable.
Close to object there is motor way Vyzhnytsya-Putyla.
Just at the object there is put labeled guideboard and metal stairs directly to the object.
Legally the object is defined as local-rank geological landmark.
Sourсe: Geological Landmarks of Ukraine: In 3 volumes/V.P. Bezvynniy, S.V. Biletski, O.B. Bobrovetal.; V.l. Kalinin, D.S. Gurskiy, I.V. Antakova, Eds. — K.: DIA, 2006. — Volume I. — 320 p.