CHERNIVTSI REGION. SMUGAR WATERFALL.
GEOLOGICAL LANDMARKS OF UKRAINE.  CHERNIVTSI REGION.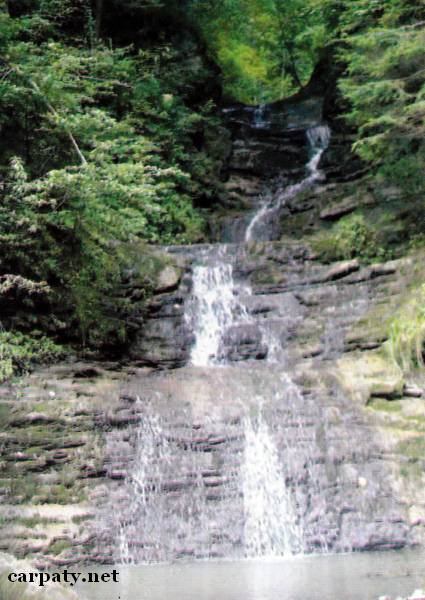 Fore-Carpathian Trough, Boryslavsko-Pokutskiy Nappe
Vyzhnytsya area, north-eastern outskirt of Roztoky village. Smugar Stream
48° 09′ N lat.; 25° 08′ E long.
Square 1,5 hectares
National Nature Park "Vyzhnytskiy"
Geomorphologic, stratigraphic.
The object is confined to Middle Eocene (Vygodska Suite, 45 Ma) rocks composed of coarselayered sandstones piles and green-grey variable-rhythmic piles which are characteristic to north-western part of Pokutski structures. There are benches in the stream course and waterfall which includes three cascades 10 m high in total.
The waterfall is impressive decoration of the canyon along which there passes tourist route.
Ecological conditions are suitable.
There is walk pass to the object from village outskirt, 2 km higher Smugar Stream outfall.
Legally the object is defined as geological landmark. It is included into National Nature Park "Vyzhnytsk".
It is suggested to give the status of regional-rank landmark.
Sourсe: Geological Landmarks of Ukraine: In 3 volumes/V.P. Bezvynniy, S.V. Biletski, O.B. Bobrovetal.; V.l. Kalinin, D.S. Gurskiy, I.V. Antakova, Eds. — K.: DIA, 2006. — Volume I. — 320 p.