CHERNIVTSI REGION. MIOCENE GYPSUM OUTCROP IN TOVTRY VILLAGE.
GEOLOGICAL LANDMARKS OF UKRAINE.  CHERNIVTSI REGION.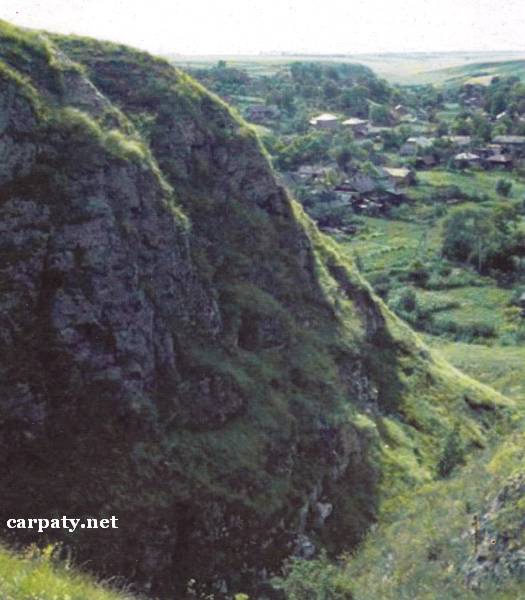 Volyno-Podilska Plate
Zastavnensk area, southern outskirt of Tovtry village. Left gullied slope of Dnister River branch
48' 33′ N lat.; 25° 53′ E long.
Cliffs. Square 5 hectares
Stratigraphic.
In the impressive cliffs up to 30 m high there are exposed Miocene Upper Badenian (14 Ma) Tyraska Suite gypsums. Section lower part is composed of fine-grained gypsums with stromatolite texture, and upper part — of giant-crystalline gypsums with sable-like crystal shape.
This is section of Upper Miocene sulphates characteristic for the given region. The cliffs are pictorial local landscape decoration.
Ecological conditions are suitable.
Access by walk pass from Tovtry village.
Legally the object is not defined yet.
It is suggested to give the status of regional-rank landmark.
Sourсe: Geological Landmarks of Ukraine: In 3 volumes/V.P. Bezvynniy, S.V. Biletski, O.B. Bobrovetal.; V.l. Kalinin, D.S. Gurskiy, I.V. Antakova, Eds. — K.: DIA, 2006. — Volume I. — 320 p.