CHERNIVTSI REGION. ZVENYACHYNSKO-KHRESHCHATYNSKA WELL.
GEOLOGICAL LANDMARKS OF UKRAINE.  CHERNIVTSI REGION.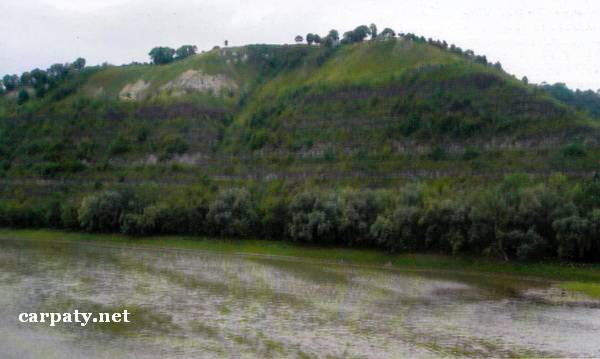 Volyno-Podilska Plate
Zastavnensk area, Zvenyachyn and Khreshchatyk villages. Right gullied slope of Dnister River
48° 38′ N lat.; 25° 45′ E long.
Square 5,9 hectares
Stratrigraphic.
There is an outcrop on the gullied Dnister River slope. In the 140 m high slope there are exposed (from bottom to top): (I) Lower Devonian (410 Ma) Tyverska Series rocks consisting of intercalation of greenish-grey argillites and limestones; (II) Lower Devonian (400 Ma) Dnisterska Series red-colored terrigenous rocks; (III) Cretaceous Albian and Senomanian (100-105 Ma) sandy limestones; (IV) Miocene Lower Badenian (16 Ma) Opilska Suite lithotamnian limestones; (V) Miocene Upper Badenian (14 Ma) Tyraska Suite gypsums.
This is the section of Devonian, Cretaceous and Miocene rocks and object for geological excursions. Ecological conditions are suitable.
Close to the object there is motor-car way Ternopil — Chernivtsi, in front of the bridge.
Legally the object as geological landmark is not defined yet.
It is suggested to give the status of regional-rank landmark.
Sourсe: Geological Landmarks of Ukraine: In 3 volumes/V.P. Bezvynniy, S.V. Biletski, O.B. Bobrovetal.; V.l. Kalinin, D.S. Gurskiy, I.V. Antakova, Eds. — K.: DIA, 2006. — Volume I. — 320 p.