LVIV REGION. SVYATOSIAVSKIY QUARRY.
GEOLOGICAL LANDMARKS OF UKRAINE.  LVIV REGION.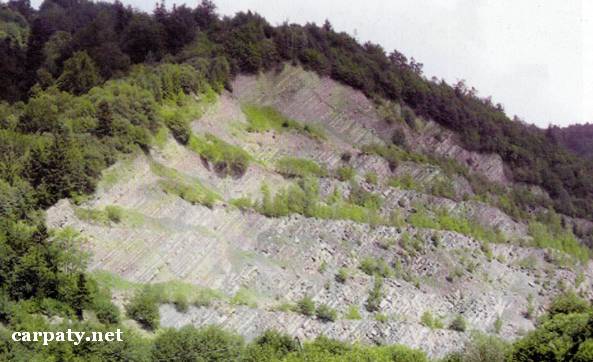 External Carpathians, Skyboviy Nappe
Skole area, northern outskirt of Svyatoslav village
49° 01′ N lat.; 23° 28′ E long.
Quarry. Square 0,5 hectare
Stratigraphic.
In the quarry wall along 250 m it is exposed fine-rhythmic two-component flysch pile which is characteristic to the Upper Cretaceous section of northern structures in Skyboviy Nappe of Carpathians. Rocks are in monocline laying with south-western dipping under 45° angle. In the pile there are clearly observed fracture systems which suggest for dominated north-eastern tension during Carpathian mega-nappe formation.
This is typical section of Upper Cretaceous (Stryiska Suite, 65-75 Ma) fine-rhythmic flysch. It has scientific value and is the object of Carpathian-Balkanian Geological Association field trips'as well as geological training of students from Lviv National University.
Ecological conditions are suitable.
Access from Lviv-Uzhgorod highway.
Legally the object is not defined yet.
It is suggested to give the status of regional-rank landmark.
Sourсe: Geological Landmarks of Ukraine: In 3 volumes/V.P. Bezvynniy, S.V. Biletski, O.B. Bobrovetal.; V.l. Kalinin, D.S. Gurskiy, I.V. Antakova, Eds. — K.: DIA, 2006. — Volume I. — 320 p.