LVIV REGION. KAMYANKA RIVER WATERFALL.
GEOLOGICAL LANDMARKS OF UKRAINE.  LVIV REGION.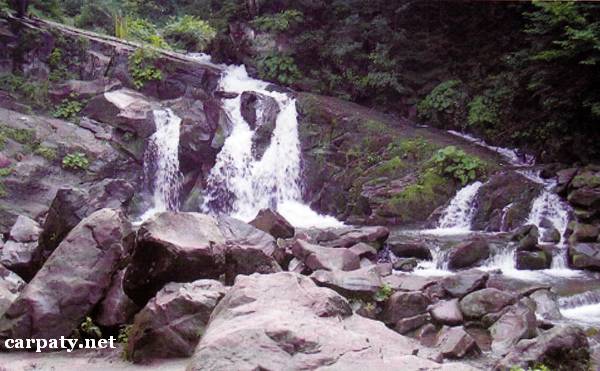 External Carpathians, Skyboviy Nappe
Skole area. Kamyanka River
49° 02′ N lat.; 23° 34′ E long.
Waterfall. Square 0,5 hectare
Geomorphologic.
In the middle stream of Kamyanka River (branch of Opir River) it is observed the cascade of small waterfalls largest of which is 5 m high that are confined to the benches of Upper Paleocene (55 Ma) Yamnenska Suite massive and layered sandstones. Up the waterfall the river streams in wonderful canyon-like valley which is of breakthrough-valley type.
It is impressive landscape decoration and object of tourist visits.
Ecological conditions are suitable.
Access by the road from Lviv—Uzhgorod highway.
Legally the object is defined and included into the National Nature Park "Skole Beskydy".
It is suggested to give the status of regional-rank landmark.
Sourсe: Geological Landmarks of Ukraine: In 3 volumes/V.P. Bezvynniy, S.V. Biletski, O.B. Bobrovetal.; V.l. Kalinin, D.S. Gurskiy, I.V. Antakova, Eds. — K.: DIA, 2006. — Volume I. — 320 p.