LVIV REGION. CLIFFS AND CAVES ON THE KLYUCH RIDGE.
GEOLOGICAL LANDMARKS OF UKRAINE.  LVIV REGION.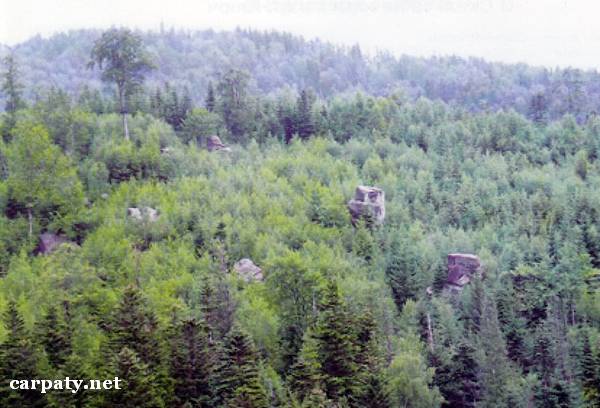 External Carpathians, Skyboviy Nappe
Skole area. Klyuch Ridge
49° 03′ N lat.; 23° 35′ E long.
Rocky cliffs, caves. Square 100 hectares
Geomorphologic.
On the southern slope of Klyuch Ridge close to watershed in the forest occur up to 15-20 m high cliffs-remnants of Upper Paleocene (55 Ma) Yamnenska Suite massive sandstones. Often cliffs form the groups ("Ostriv Paskhy", "Igroteka" etc.). Also on the southern slope of Klyuch Ridge in the same sandstones are found more than 20 caves of fracture type from which largest one ("Prokhidniy Dvir") has total length of all passes about 520 m. The caves are resulted from the gravitation displacement of Yamnensk sandstones that caused fracture opening inside them. The caves of Klyuch Ridge are the largest ones in the sandstones of Ukraine. Due to gravitation slice in theYamnenski sandstones also formed canyon-like splits up to 5-10 m wide and 20-25 m deep.
The cliffs are wonderful landscape decoration while the caves have scientific value by their nature and morphology.
Ecological conditions are suitable.
Access by Kamyanka River valley from the Lviv-Uzhgorod highway to the waterfall then by pass walk.
Legally the objects are not defined yet but it is worthy to get this since they are located inside the National Nature Park "Skole Beskydy".
It is suggested to give the status of state-rank landmark.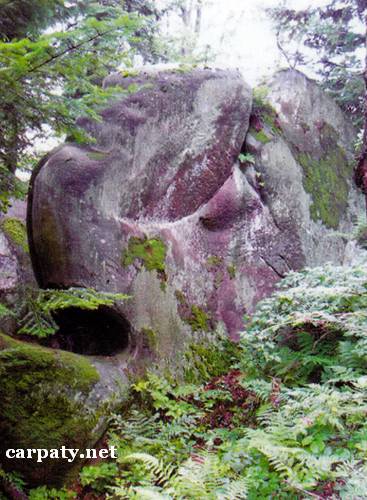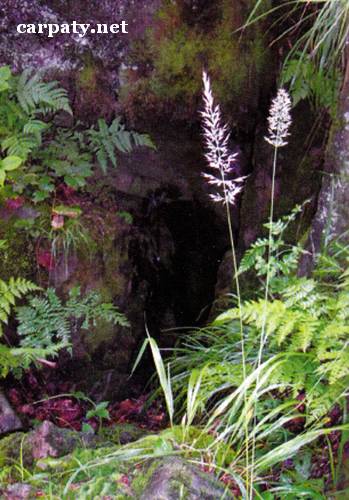 Sourсe: Geological Landmarks of Ukraine: In 3 volumes/V.P. Bezvynniy, S.V. Biletski, O.B. Bobrovetal.; V.l. Kalinin, D.S. Gurskiy, I.V. Antakova, Eds. — K.: DIA, 2006. — Volume I. — 320 p.