LVIV REGION. KAMYANIY TRYNIG ("THREE-HORNED STONE") CLIFF.
GEOLOGICAL LANDMARKS OF UKRAINE.  LVIV REGION.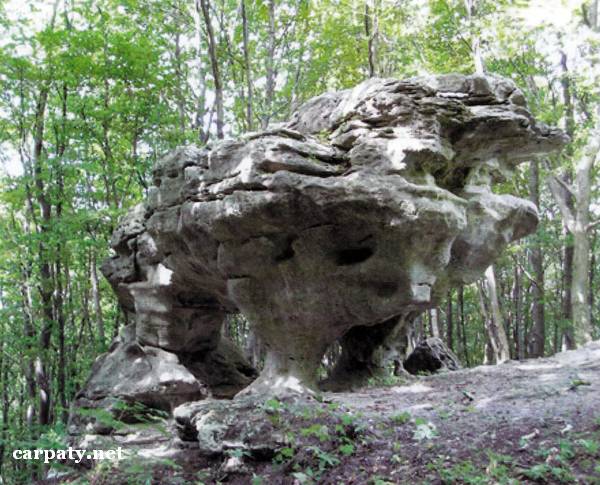 Volyno-Podilska Plate
Brody area, Perelisky village, 3 km eastward from outskirt
48° 36′ 45″ N lat.; 22° 19′ 40″ E long.
Cliff. Square 0,5 hectare
Geomorphologic.
On the mountain top in the forest there occurs distinct cliff — erosion remnant of Sarmatian calcareous sandstones (Upper Miocene, 11 Ma) which comprises stony plate 7 by 4 by 3 m that lies above three "lags". Such the form is resulted from water and wind erosion. From the side the cliff resemble some animal which is going to jump.
The cliff provides impressive patterns to the landscape. It is typical example of erosion remnants of Sarmatian sandstones.
Ecological conditions are suitable.
Accessible by motor-car from Ponykva village to the hill foot then walk by path-.
Legally the object is defined as local-rank geological landmark.
It is suggested to give the status of regional-rank landmark.
Sourсe: Geological Landmarks of Ukraine: In 3 volumes/V.P. Bezvynniy, S.V. Biletski, O.B. Bobrovetal.; V.l. Kalinin, D.S. Gurskiy, I.V. Antakova, Eds. — K.: DIA, 2006. — Volume I. — 320 p.