IVANO-FRANKIVSK REGION. OUTCROP OF PALEOZOIC METAMORPHIC ROCKS.
GEOLOGICAL LANDMARKS OF UKRAINE. IVANO-FRANKIVSK REGION.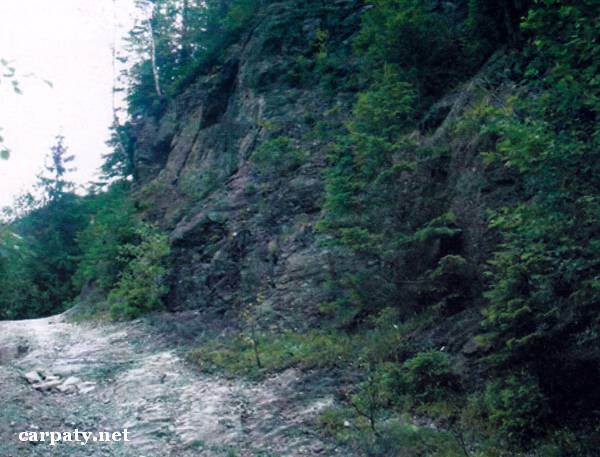 Carpathians, Marmaroshskiy Massif
Verkhovyna area. Left bank of Perkalab River
47° 47′ N lat; 24° 57 E long.
Square 0,5 hectare
Stratigraphic, mineralogical.
There is gullied left bank of Perkalab River up to 10 m high and 30 m long. In the outcrop there are observed Lower Paleozoic (400 Ma) Balasynivska Suite sericite and sericite-chlorite schists which represent most of the Marmaroshskiy Massif (thrust) section. The schists are cut by numerous milky-white quartz veins which contain polymetallic and gold mineralization.
This is typical section of Paleozoic metamorphic rocks of Marmaroshskiy Massif.
Ecological conditions are suitable.
Access to the outcrop from the main road which goes from Perkalab village to the boundary checkpoint, close to broken dam.
Legally the object as geological landmark is not defined yet. It is suggested to give the status of local-rank landmark.
Sourсe: Geological Landmarks of Ukraine: In 3 volumes/V.P. Bezvynniy, S.V. Biletski, O.B. Bobrovetal.; V.l. Kalinin, D.S. Gurskiy, I.V. Antakova, Eds. — K.: DIA, 2006. — Volume I. — 320 p.