IVANO-FRANKIVSK REGION. CLIFF OF TRIASSIC LIMESTONES.
GEOLOGICAL LANDMARKS OF UKRAINE. IVANO-FRANKIVSK REGION.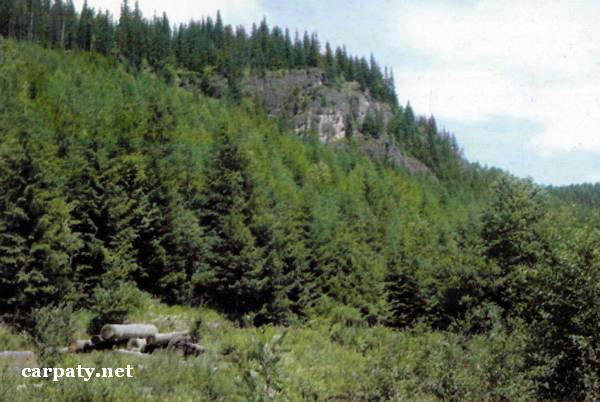 Carpathians, Marmaroshskiy Massif
Verkhovyna area. Preluchniy Stream
47° 47′ N lat; 24° 56′ E long.
Rocky cliffs. Square 2 hectares
Stratigraphic, geomorphologic.
On the left slope of Preluchniy Stream in impressive cliff up to 50 m high there are exposed Middle-to-Upper Triassic (200-210 Ma) gray and red marbled limestones. Beneath the cliff there is located high-output spring of hydro-carbonate water which is of karst origin.
This is remnant of Triassic sediments which overlie metamorphic rocks of Marmaroshskiy Massif (thrust); impressive landscape decoration.
Ecological conditions are suitable.
Access by Preluchniy Stream valley (1 km up the delta) from the road which goes from Perkalab village to the boundary check-point.
Legally the object as geological landmark is not defined yet. It is suggested to give the status of local-rank landmark.
Sourсe: Geological Landmarks of Ukraine: In 3 volumes/V.P. Bezvynniy, S.V. Biletski, O.B. Bobrovetal.; V.l. Kalinin, D.S. Gurskiy, I.V. Antakova, Eds. — K.: DIA, 2006. — Volume I. — 320 p.