IVANO-FRANKIVSK REGION. DOVBUSH CLIFFS ON SOKILSKIY RIDGE.
GEOLOGICAL LANDMARKS OF UKRAINE. IVANO-FRANKIVSK REGION.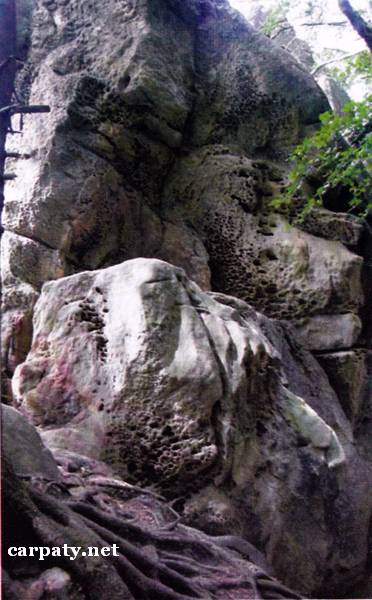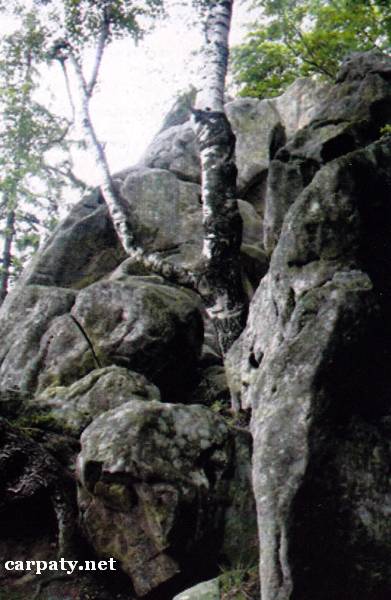 Fore-Carpathian Trough, Boryslavsko-Pokutskiy Thrust
Area, Velykiy Rozhen village. Sokilskiy Ridge
48° 14′ N lat; 25° 05′ E long.
Cliffs.
Geomorphologic.
The cliffs up to 40 m high at the ridge watershed are composed of Upper Paleocene massive sandstones (Yamnenska Suite, 55 Ma). On the cliff surfaces there occur diverse weathering forms with predomination of the cell ones.
This is typical example of erosion remnants and impressive landscape decoration which is being visited by numerous tourists.
Ecological conditions are suitable.
Mosf appropriate path to the cliffs goes from the Village Administration in Velykiy Rozhen village.
Legally the object as geological landmark is not defined yet.
It is suggested to give the status of local-rank landmark.
Sourсe: Geological Landmarks of Ukraine: In 3 volumes/V.P. Bezvynniy, S.V. Biletski, O.B. Bobrovetal.; V.l. Kalinin, D.S. Gurskiy, I.V. Antakova, Eds. — K.: DIA, 2006. — Volume I. — 320 p.