IVANO-FRANKIVSK REGION. RUSHORSKI WATERFALLS.
GEOLOGICAL LANDMARKS OF UKRAINE. IVANO-FRANKIVSK REGION.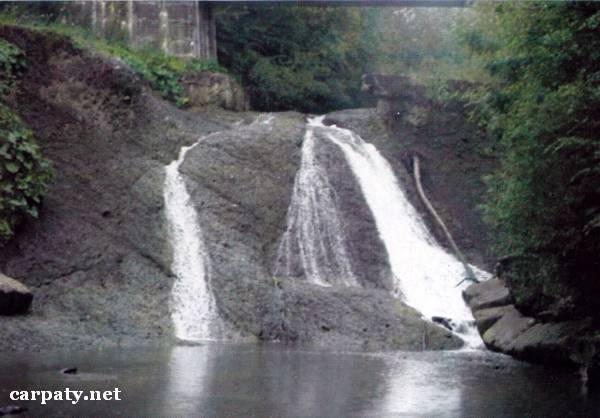 Fore-Carpathian Trough, Boryslavsko-Pokutskiy Thrust
Kolomiya area, southern outskirt of Lyucha village. Course of Rushor Stream
48° 23′ N lat; 24° 55′ E long.
Square 5 hectares
Geomorphologic, stratigraphic.
The first waterfall is confined to the flint pile of Lower Flint Horizon (Ombronskiy regional-division, Oligocene Lower Menilitova Sub-Suite, 35Ma), and the second one — to Slobidski conglomerates (Eger-Egenburg regional-division, Lower Miocene, 20-25 Ma). Waterfall height is 3 and6 m respectively.
This is an object of stratigrafic and geomorphologic value as well as landscape decoration.
Ecological conditions are suitable.
From Kolomiya Town there is motor way to Yabluniv village and then to Kosmach village. Object is located in front of tourist camp building in 400 m eastward from the church of Lyucha village.
Legally the object as geological landmark is not defined yet. It is suggested to give the status of local-rank landmark.
Sourсe: Geological Landmarks of Ukraine: In 3 volumes/V.P. Bezvynniy, S.V. Biletski, O.B. Bobrovetal.; V.l. Kalinin, D.S. Gurskiy, I.V. Antakova, Eds. — K.: DIA, 2006. — Volume I. — 320 p.