IVANO-FRANKIVSK REGION. BUKHTIVETS WATERFALL.
GEOLOGICAL LANDMARKS OF UKRAINE. IVANO-FRANKIVSK REGION.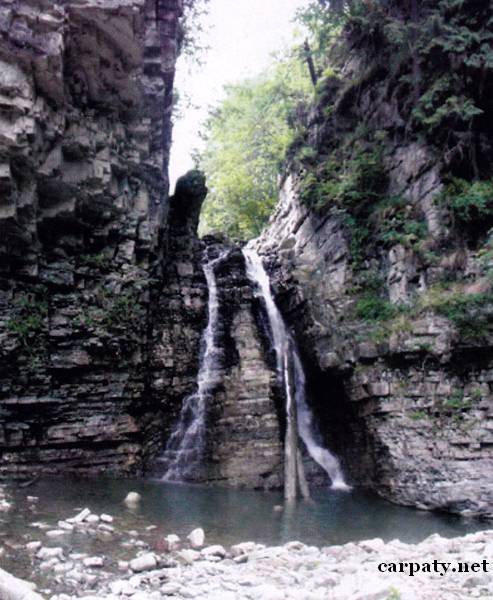 External Carpathians, Skyboviy Nappe
Nadvirna area, south-western outskirt of Bukove village. Valley of Bukhtivets Stream
48° 36′ N lat; 24° 23′ E long.
Cascade of benches. Square 0,5 hectare
Geomorpholigic, stratigraphic.
In the course of Bukhtivets Stream there occurs cascade of benches which are finished with waterfall 7,5 m high. The waterfall is confined to Middle Eocene rocks of "Pasichna lithotype" composed of silicified platy limestones. Some layers are up to 1 m thick. Downstream the valley in both banks occur impres sive gullies up to 30-40 m high. In the stream delta there are quarries in operation. The dipping of the rocks is sub-horizontal.
The object makes essential landscape decoration.
Ecological conditions are suitable.
To the waterfall there is a pass from dirt road which goes to Maydam village crossing. Close to the road there is a label with note "Hydrogeological nature landmark "Bukhtivets Waterfall".
Legally the object as geological landmark is defined.
It is suggested to give the status of geological local-rank landmark.
Sourсe: Geological Landmarks of Ukraine: In 3 volumes/V.P. Bezvynniy, S.V. Biletski, O.B. Bobrovetal.; V.l. Kalinin, D.S. Gurskiy, I.V. Antakova, Eds. — K.: DIA, 2006. — Volume I. — 320 p.