IVANO-FRANKIVSK REGION. MUD VOLCANO IN STARUNYA VILLAGE.
GEOLOGICAL LANDMARKS OF UKRAINE. IVANO-FRANKIVSK REGION.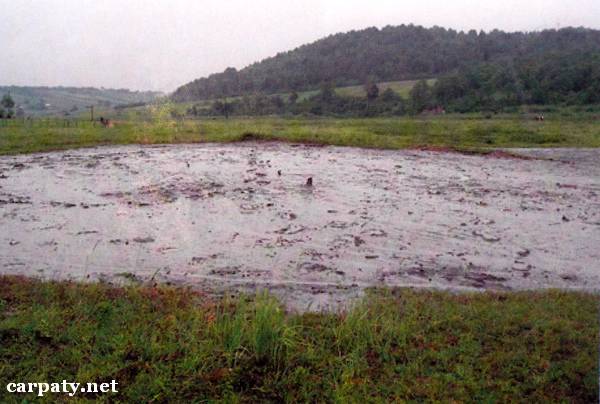 Fore-Carpathian Trough, Boryslavsko-Pokutskiy Nappe
Nadvirna area, Starunya village
48°41′ N lat; 24°30′ E long.
Mud volcano. Square 60 hectares
Tectonic, geomorphologic.
Object is located on the left bank of Velykiy Lukavets Stream and is confined to the crestal part of deep-seated anticline of Boryslavsko-Pokutskiy Nappe. This anticline is composed of the Upper Cretaceous — Paleogene rocks that are overlain by thick Lower Miocene olistostrome pile (Vorotyshchenska Suite, 22-25 Ma). Volcano comprises flattened cone 20 m in diameter and 1,5 m high with small neck 0,3 m in diameter through which clay, salt brine and gas bubbles are coming up. Close to volcano are located the remnants of ancient (beginning of XX century) ozokerite shaft and drill-hole from which periodically gas and salt-brine extrusions occur. Also close to the object in the beginning of XX century have been found well-preserved remnants of Holocene fauna — mammoth, rhino, deer and other animals.
This mud volcano is of disputable origin, this is the only example in entire Ukrainian Fore-Carpathians.
Ecological conditions are relatively suitable. Clay radioactivity close to mud volcano neck is 20-25 mkr/h.
Accessible by motor-car road to the school in Starunya village then 2 km along Velykiy Lukavets Stream.
Legally the object as geological landmark is not defined yet.
It is suggested to give the status of geological regional-rank landmark.
Sourсe: Geological Landmarks of Ukraine: In 3 volumes/V.P. Bezvynniy, S.V. Biletski, O.B. Bobrovetal.; V.l. Kalinin, D.S. Gurskiy, I.V. Antakova, Eds. — K.: DIA, 2006. — Volume I. — 320 p.