IVANO-FRANKIVSK REGION. PHOSPHORITE-BEARING LOWER-UPPER CRETACEOUS SEDIMENTS, STRATOTYPE OF NEZVYSKA SUITE.
GEOLOGICAL LANDMARKS OF UKRAINE. IVANO-FRANKIVSK REGION.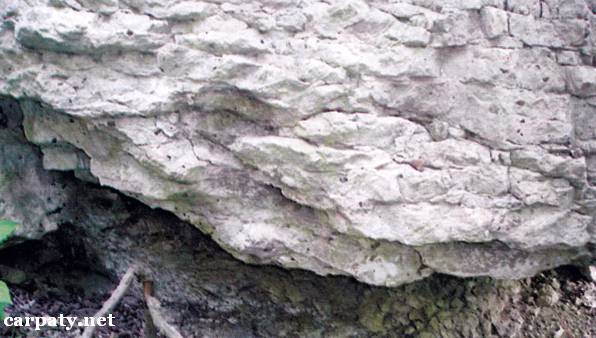 Gorodenkivskiy area, north-eastern outskirt of Nezvysko village
48°47′ N lat; 25°16′ Elong.
Square 2 hectares
Stratigraphic.
In the gully banks and in the ancient gallery on the eroded Upper Jurassic surface there lie limestones of Nezvyska Suite (Cretaceous Albian and Senomanian divisions, 100-105 Ma). In the lower part of Cretaceous section there occurs phosphorite-bearing horizon 0,4-0,5 thick (so called "phosphorite plate") enriched in phosphated sponge debris. P205 content is up to 30%. Phosphorites had been being mined from the beginning of XX century up to the mid of fifties.
Ecological conditions are suitable.
Accessible by walk from the centre of Nezvysko village to the bridge over Dnister River then by dirt road and pass to the galleries.
Legally the object as geological landmark is not defined yet.
It is suggested to give the status of geological regional-rank landmark.
Sourсe: Geological Landmarks of Ukraine: In 3 volumes/V.P. Bezvynniy, S.V. Biletski, O.B. Bobrovetal.; V.l. Kalinin, D.S. Gurskiy, I.V. Antakova, Eds. — K.: DIA, 2006. — Volume I. — 320 p.