IVANO-FRANKIVSK REGION. CHECHVYNSKI TUFFS.
GEOLOGICAL LANDMARKS OF UKRAINE. IVANO-FRANKIVSK REGION.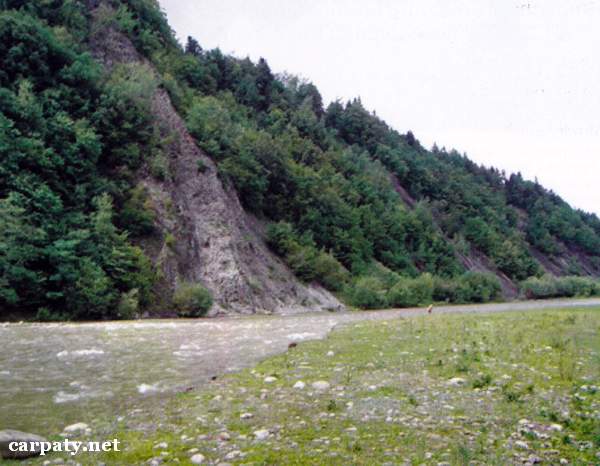 External Carpathians, Skyboviy Nappe
Rozhnyativ area, between Spas and Verkhniy Strutyn villages Chechva River
48°55′ N lat; 24°04′ E long.
Rocky left slope of Chechva River; height 60 m, length 250 m.
Stratigraphic.
Along the distance of 60 m in left bank of Chechva River there is exposed pile of light-grey liparite tuffs with minor clay material. Up the section there occur black and dark-grey flaky argillites with fine layers of aleurolites and sandstones. The dipping is vertical. These rocks comprise north-eastern limb of large anticline in Beregova slide of Skyboviy Nappe. Origin of Chechvynski tuffs is a subject of discussion. This is the only in Skybovi Carpathians exposure of tuffaceous rocks in the section of Upper Oligocene — Lower Miocene flysch (Upper Menilitova Sub-Suite, 25-30 Ma). It has scientific value and is the object of Carpathian-Balkanian Geological Association excursions.
Ecological conditions are suitable.
Accessible by walk up to the outcrop along left bank from Lopyanka village. It is better to see the outcrop from the right bank of Chechva River at the western outskirt of Verkhniy Strutyn village.
Legally the object as geological landmark is not defined yet.
It is suggested to give the status of geological regional-rank landmark.
Sourсe: Geological Landmarks of Ukraine: In 3 volumes/V.P. Bezvynniy, S.V. Biletski, O.B. Bobrovetal.; V.l. Kalinin, D.S. Gurskiy, I.V. Antakova, Eds. — K.: DIA, 2006. — Volume I. — 320 p.