IVANO-FRANKIVSK REGION. CONTACT OF LOWER DEVONIAN AND UPPER JURASSIC ROCKS
GEOLOGICAL LANDMARKS OF UKRAINE. IVANO-FRANKIVSK REGION.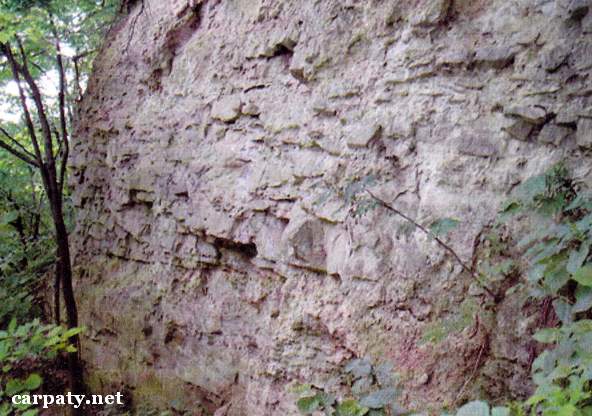 Volyno-Podilska Plate
Tlumatskiy area, southern outskirt of Nyzhniv village. Right bank of Dnister River
48°57′ N lat; 25°07′ E long.
Cliff along 100 m distance. Square 0.1 hectare
Stratigraphic.
On the eroded surface of the Lower Devonian sandstones (Dnister Series, 400 Ma) where clear inclined deltaic thick-bedding occurs, there lie Late Jurassic basal conglomerates up to 5 m thick and then, in the gullies on right slope, there are exposed Late Jurassic limestones and dolomites (Nyzhnivska Suite, 150 Ma).
There is stratigraphic boundary between continental Lower Devonian and marine carbonate Upper Jurassic sediments, and it is stratotype of Upper Jurassic Nyzhniv Suite. Ecological conditions are suitable.
Accessible by motor-car to the bridge over Dnister River in Nyzhnivska village then by dirt road along right bank of the valley — 0.14 km lower the delta of Tlumach Stream.
Legally the object is not defined yet.
It is suggested to give the status of geological regional-rank landmark.
Sourсe: Geological Landmarks of Ukraine: In 3 volumes/V.P. Bezvynniy, S.V. Biletski, O.B. Bobrovetal.; V.l. Kalinin, D.S. Gurskiy, I.V. Antakova, Eds. — K.: DIA, 2006. — Volume I. — 320 p.