SHYPOTSKA SUITE OUTCROP.
GEOLOGICAL LANDMARKS OF UKRAINE. TRANS-CARPATHIAN REGION.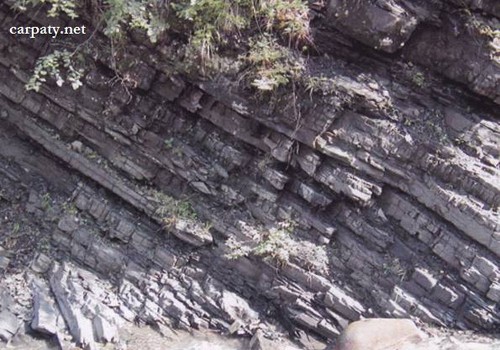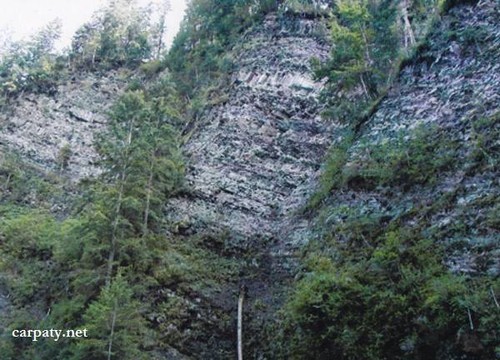 External Carpathians, Chornogorska Zone
Rakhiv area, Yasynya Township, Keveliv Farm. Right bank of Svydovets Stream 2 km up the delta
48° 14′ 14″ N lat; 24° 18′ 17" E long.
Rocky cliff
Stratigraphic, geomorphologic.
In the right bank of impressive Svydovets Stream is exposed medium-rhythmic dark to black siliceous clay-sandy flysh of Lower Cretaceous Shypotska Suite. Length along the slope is 200 m and height up to 50-60 m. The rock age is defined by micro-fauna findings. This one of a few large Shypotska Suite rock outcrops is typical in Chornogorskiy nappe and has significant scientific importance. It is located at the outskirts of ski reserve and because of beautiful landscape is permanently being visited by tourists.
Ecological conditions are suitable.
Accessible by motor-car of enhanced 4-weels drive.
Legally the object as geological landmark is not defined yet.
It is suggested to give the status of geological regional-rank landmark.
Sourсe: Geological Landmarks of Ukraine: In 3 volumes/V.P. Bezvynniy, S.V. Biletski, O.B. Bobrovetal.; V.l. Kalinin, D.S. Gurskiy, I.V. Antakova, Eds. — K.: DIA, 2006. — Volume I. — 320 p.