KLENOVETSKE EXPOSURE OF COLUMNAR ANDESITES.
ГЕОЛОГІЧНІ ПАМ'ЯТКИ УКРАЇНИ. ЗАКАРПАТСЬКА ОБЛАСТЬ.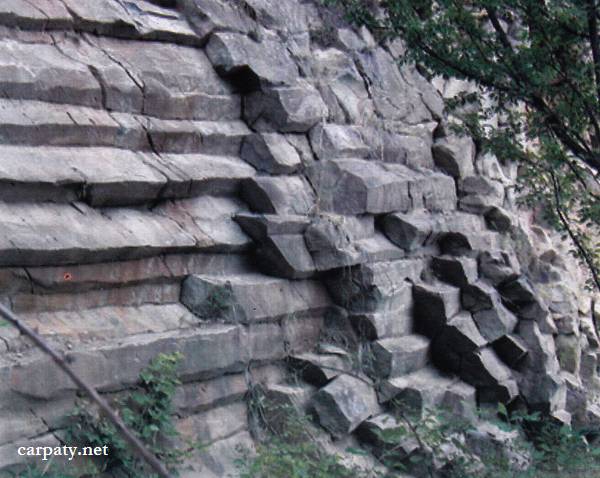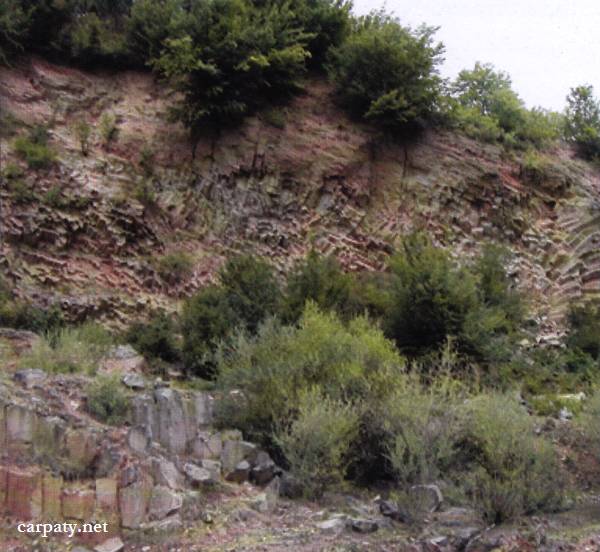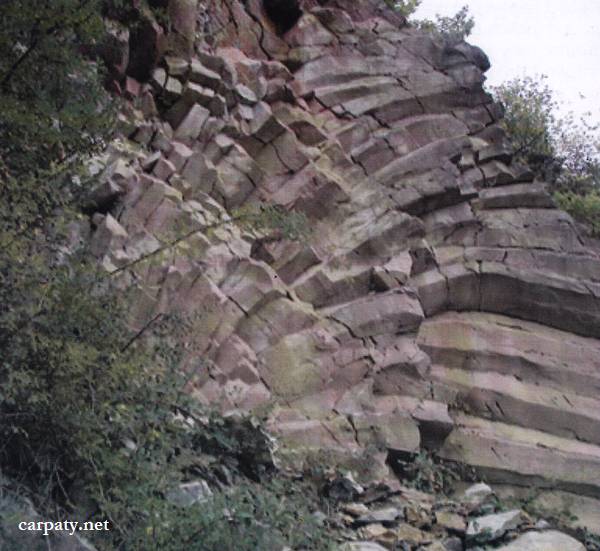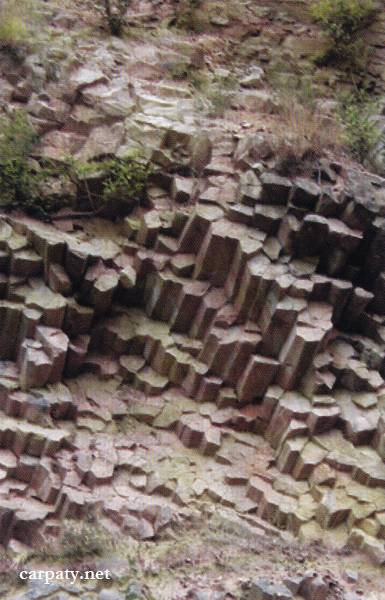 Trans-Carpathian internal trough, Vygorlat-Gutynske volcanic range
Mukachevo area, south-western outskirt of Klenovets village. Right bank of Vyznytsya River
48° 30′ 04" N lat.; 22° 45′ 18″ E long.
Quarry
Magmatic.
In the right bank of Vyznytsya River in closed quarry up to 100 m long and bench height 7-8 m are exposed Neogene (Late Sarmatian-Pannonian, absolute age 10.3-10.7 Ma) andesite lavas. The rocks resulted from volcanic output of the largest Trans-Carpathian paleo-volcano which central neck portion (caldera) located southward at Synyak Mountain that is based on geological observations.
Andesites are of interest because of their enigmatic forms of randomly-oriented columnar jointing caused by patterns of lava flows movement. The site is being continuously visited by members of various geological excursions, students-geologists, and tourists.
Ecological conditions are suitable.
Accessible by motor-car along the road Kolchyno-Klenovets.
Legally the object as geological landmark is not defined yet.
It is suggested to give the status of geological regional-rank landmark.
Джерело: Геологічні пам'ятки України: У 3 т. / В.П. Безвинний, С.В. Білецький, О.Б. Бобров та ін.; За ред. В.І. Калініна, Д.С. Рурського, І.В. Антакової. — К.: ДІА, 2006. — Т. І. — 320 с.